Upcoming concerts, performances, retreats, workshops, and other harp events in and near the area you won't want to miss will be posted here. Be sure to check back often!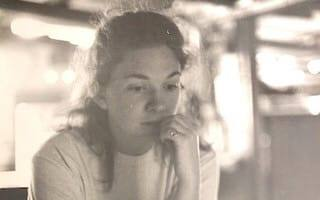 Janie Taylor
In Memoriam
She worked at a variety of jobs on the Cape and in Boston, Maine, Seattle, Montana and Honolulu, meeting a wide assortment of interesting people along the way. She was pleased that over time, her "six degrees of separation" had shrunk to only one or two degrees for practically anyone she could think of.
In her professional life, she relished her work in publishing as a freelance copyeditor. When she returned to playing the harp, which she had learned as a child, she reluctantly left the book world to embrace a new direction with the harp. She discovered the joys of the folk harp and taught lessons, organized summer harp camps, and played at countless formal and informal occasions. After moving from Montana back to Cape Cod, where her parents had moved in the 1960s, her harp interests focused on playing at the bedside for hospice patients, playing in church, and on writing music arrangements for the harp.
She valued her friends. She enjoyed having a good time. She admired beauty and creativity in the natural world, in writing, art, poetry, and music. She valued hope and optimism. A reader from an early age, she loved books and reading, solitude, walking, being at the beach, birding, playing her harp, eating dessert, the many dachshunds she had over the years, and having fun. She especially valued her church family at First Congregational Church in Chatham, many of whom offered generous support during her illness.
Janie was predeceased by her husband, Dick, whom she met in Hawaii shortly before he retired from the U.S. Coast Guard. She is survived by her four stepchildren.
Donations in her memory may be made to the Organ Restoration Fund at First Congregational Church in Chatham, to Wildcare in Eastham, or to a charity of your choice
Past Events, Concerts and Workshops
April 8, 2016 Lisa Lynne & Aryeh Frankfurter Workshops, Private Lessons and Concert in Missoula, MT
Workshops included: "Swedish Tunes for All Instruments", and "Playing By Ear"
September 25-27, 2015 Big Sky Harp Retreat Featured Billy Jackson Workshops, Private Lessons and Concert in Missoula, MT
August 15-16, 2015 Big Sky Harp Society at the Bitterroot Scottish/Irish Festival in Hamilton, MT
The BSHS once again had a harp tent at the 2015 Bitterroot Scottish/Irish Festival in Hamilton, Montana. We spoke to many passers by about the fun of playing harps, and many had their first experience of playing a harp! Several of our members offered music at various times.
June 10-11, 2015 Sharon Thormahlen Workshops and Concert in Missoula, MT
Workshops included: "Elements of Arranging", "String Tying, Harp Tuning, and Harp Maintenance", "Music Theory and Improvising", as well as private lessons.
September 12, 2014 American Harp Quartet in Whitefish, MT
August 23-24, 2014 Big Sky Harp Society at the Bitterroot Celtic Festival in Hamilton, MT
September 27-29, 2013 Big Sky Harp Retreat
March 2, 2013 Montana Harpist Laura Welker Concert in Helena, MT
Music Therapist Katy Meyers Featured in Montana Woman Magazine
Kalispell area harper Katy Meyers has been delighting and comforting patients and staff with her therapeutic harp for several years, and her skills caught the attention of the Montana Woman Magazine. She was featured in their June, 2015 issue, and Montana Woman has graciously given us permission to attach the article below. Be sure to check it out!
Havre Harp Therapist Appointed to National Council
Mary Stevens, local harp therapist in Havre, Montana, has been appointed to the Representative Council of the National Standards Board of Therapeutic Musicians (NSBTM) as the representative of Vibroacoustic Harp Therapy® (VAHT).
The National Standards Board for Therapeutic Musicians (NSBTM) consists of leaders in the therapeutic music field. The NSBTM defines the Courses of Study, Scope of Practice, Code of Ethics and other rules of conduct for the certified therapeutic musician. The practice of the therapeutic musician is to use the intrinsic healing elements of live music and sound to provide an environment conducive to the human healing process.
Vibroacoustic Harp Therapy® (VAHT) uses live harp music in combination with a vibrotactile device (usually a chair, table or pillow) to vibrate and resonate with the tissues of the body, thereby affecting physiological processes. It also affects the mental, emotional and energetic or spiritual aspects of the individual to promote inner healing.
Stevens practices therapeutic music and VAHT in the Northern Montana Care Center in Havre, the Liberty Medical Center in Chester, and through her private music studio in Havre. She also plays live therapeutic piano or harp music in the lower level of the Atrium mall during the noon hour on Wednesdays. She is a certified graduate of the Harp for Healing, Vibroacoustic Harp Therapy, and International Harp Therapy training programs.
June 20, 2014: Heavenly Harp Duo, Missoula
The Heavenly Harp Duo (www.heavenlyharp.org) is welcomed back for a second concert Friday, June 20, at 7:00 p.m., at St. Paul Lutheran Church, 202 Brooks Street, Missoula.

Joy Gunderson
Two-time concerto winner, harpist Joy is a graduate of the renowned music school, St. Olaf College, in Northfield, MN where she studied with Minnesota Orchestra harpist, Kathy Kienzel. Her beautiful six-foot high Concert Grand pedal harp adds a touch of elegance to any occasion. At St. Olaf College Joy earned the highest academic and music scholarships. She had the honor of being chosen to be the St. Olaf Orchestra harpist in her freshmen year. Joy played in both orchestras simultaneously and sang in the St. Olaf Choir. She studied harp, organ, voice and piano as part of her Church Music Major.
Karin Gunderson
Karin plays a 4-1/2 foot high celtic harp. As a hospice harpist for eleven years, Karin has developed a wide ranging repertoire from classical to popular love songs, Christian music to Latin American, Celtic, and country western. Karin likes using ethereal music to relax your audience as they await your entrance.
A music graduate of Concordia College, Moorhead, MN, Karin is an accomplished vocalist, harpist, pianist and flutist. Like Joy, Karin loves to sing as she plays her harp and will warm the hearts of the audience with her pure, sweet voice.

St. Paul Lutheran Church is located in the second block off Higgins Avenue at 202 Brooks Street. (Brooks originates at Higgins right in front of Hellgate High School.)
We received the loveliest thank-you note from the folks at Boulder Hot Springs, who hosted our first annual retreat in September. You can view it to the right. Be sure to check out the Boulder Hot Springs Resort at www.boulderhotsprings.com and in person!