Below are harps that are for sale in Montana. Save yourself shipping fees and support a Montana harp player! If contact information is not listed for the seller, shoot us an email and we will get you contact information. And if you have a harp for sale, send us a detailed description, a photo, and your asking price, and we will get it listed for you!
A word on scammers:
Recently, I've had a few "someones" reach out regarding a harp I had listed for sale. These scammers are becoming hard to discern. The usual red flags are: poor grammar, referring to your harp as "your item" or in generic terms "your harp", missing obvious info. from your listing (not knowing if it's a pedal harp or a folk harp/ how many strings), assuming you can ship your harp to where they are/ not knowing where you are located (98% of the harps listed as "Montana Harps for Sale" can be assumed to be IN MONTANA). Before, if an e-mail seemed suspicious, I could correspond to dig for those red flags and the truth would soon be obvious.
Lately, however, I've experienced something new--bullying. I've never had anyone contact me with such vicous rudeness before, ending by telling me to remove my add if I wasn't willing to sell or ship my harp to them; in a second separate e-mail I was chided for not making it apparent I wouldn't ship it (though it was clearly in the listing).
On behalf of Montana harpers, let's be clear: you own your harp. You may sell or not sell to whomever you choose for any reason public or private without speculation. You may stipulate the terms regarding payment and transport or pick-up as you feel comfortable or arrange with a legitimate buyer.
You can reserve the right to refuse to sell to anyone who is rude. Don't give in to Bullying-Scammers!

Triplett Eclipse for sale, built in 2001. Asking $3,000. Please contact Jessica at jessrnelson84[at]yahoo.com.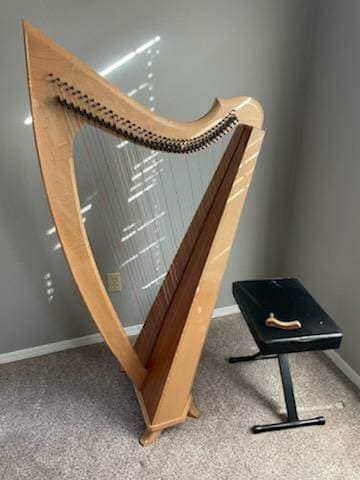 Stoney End Eve Therapy Lap Harp $900.00 w/padded case
22 strings, 3 octaves G to G, Loveland levers on F, B, and Cs, 8 lbs
Has levers on all Fs, Cs, and Bs.
Includes harp strap, tuning wrench, & padded case valued at $300.00
Built 2013, pristine condition, beautiful sound, 2nd owner
Contact Tina Scholz: curtina[at]colfax.com
Beautiful double strung harp for sale from Stoney End Folk Harps.
www.stoneyend.com 877-866-3936
Hobgoblin Music, Red Wing, MN
It's number of registration is 5610. It is double strung-- 44 total strings. Has all levers. It is walnut wood. It has a case which is padded. The harp was purchased at the harp conference in Montana in 05. The harp is in Bozeman. Call for price: phone number is 406 [dash] 223 [dash] 5974. adeletate47[at]gmail.com Adele Tate
36 string Majesty Harp in beautiful condition with heart shaped access holes down the back. Full set of sharpening levers, walnut wood. Decorative design down the sound board. Written inside the soundboard: "Harp of Praise Ruben Holistic." The harp is in Great Falls, MT. $3500 including case and tuning wrench. Contact Lydia at womentowomen63[at]gmail[dot]com 406 781 1789.
Dusty Strings Crescendo
32 Strings, Levers: B,C,F, Padded Case. Built in 2001, Purchased directly from Dusty Strings. Both Harp and case are in Excellent condition. Harp is in Billings, MT - Will travel a short distance to meet you. Price: $2400
Please contact: Cindy Dunkle at cindunklemt[at]yahoo[dot]com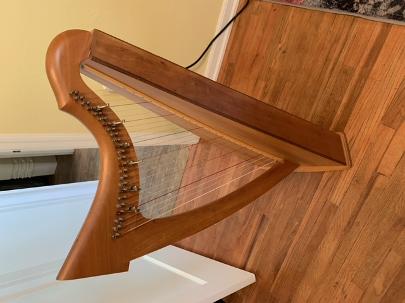 Early Triplett 24 string
Purchased directly from Triplett Harps. Liberty model. Includes Extra set of strings and tuning wrench. (sorry the pics are sideways--I couldn't get them to edit properly) $700. Call 406-552-7329 or email lbarberlcsw[at]yahoo[dot]com
Dusty Strings FH36S



Have you been dreaming about your "forever" harp? Look no further, because you will fall in love with this stunning Dusty Strings FH36S in bubinga. In immaculate condition, it has a curly maple soundboard with abalone inlay, Loveland sharping levers, Dusty Strings pickup, deluxe padded case , ergonomic tuning wrench, and a complete extra set of strings. The rich, yet sparkling, sound that Dusty Strings is famous for makes this harp an absolute joy to play. Perfect for the musician for whom sound quality and portability are important, this professional-level harp with all the extras would cost over $8000 new; it is being offered at $6500 (although reasonable offers would be considered.) Please contact Mary Lee at
luvs2run@telus.net
or 403-381-3461. I'm in Lethbridge, Alberta, but would travel to the border to meet.
Hidden Valley Minuet Lever Harp
38 strings, built in 1989, in excellent condition. Extended soundboard provides for a rich, full sound. This harp has been well loved and cared for and it shows. This harp is a gem! There are some gut strings (middle octaves), some wire strings (lower octaves), and some nylon strings (upper octaves). Price: $3500. Harp is currently in San Diego, CA but may be in Missoula, MT in late May. Please email evernon@bresnan.net or call 406-273-7966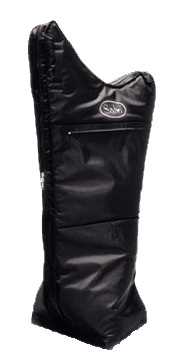 Padded professionally made harp cover, navy blue with wheels, for Salvi Ann model, or Salvi Hermes. Will also fit Lyon & Healy, Prelude. Made of 100% polyester with a PVC water-resistant fabric layer. The cover is only 2 years old, and is in like new condition. The padded cover new sells for $400.00 or more. Price $175.00 including shipping. Located in Minnesota. Contact:
estindt[at]q[dot]com
Camac Athena
Concert grand 47 string, mahogany, with extended soundboard, very nice protective custom case, red velvet cover
Can also purchase dolly ($50), padded transport board($50), hinged wood/leather stool ($50), wood shipping case ($500)
This is a wonderful harp with a rich, elegant sound, and is in beautiful shape. It has a rich mahogany finish with gold leaf detail on the extended soundboard. We just spent a goodly sum to have it regulated, and the wires changed. It is a gem! I contacted Camac harps in France, and they recommended a resale price according to the serial number. ($15,900 serial no. F-139)
Contact Wendy Monson at mtmons[at]msn[dot]com
or 406 nine-two-zero 0501
Thormahlin Cygnet 36 with Full Levers
Karen in Vancouver, WA is selling her Thormahlin Cygnet 36 string lever harp. This harp is walnut with spruce soundboard, was made in 2011 (mint condition, played very little), and includes a K&K internal pickup for amplification. Karen is asking $4,850 (original price was $6,300 including custom features.) Price is somewhat negotiable. Contact Karen at himsworth[dot]andrew[at]comcast[dot]net, five four one, four one zero, three three seven three.